By night's end there were countless memories acquired, inspiration abound, a profound appreciation for the talented artists of Chester County and a plethora of empty wine bottles. But let's start at the beginning!
align.Space was thrilled to be one of 40 host sites for the Spring Gallery Walk on May 3rd, a Greater West Chester Chamber of Commerce event that encourages attendees to visit multiple venues and experience the work of exceptional local artists. John Hannafin, Laura Spayd and Sherry Brilliant were the three creators who had original pieces on display in our 1908 Event Space, which perfectly complemented the art thanks to a thoughtful mix of historic preservation and modern elements.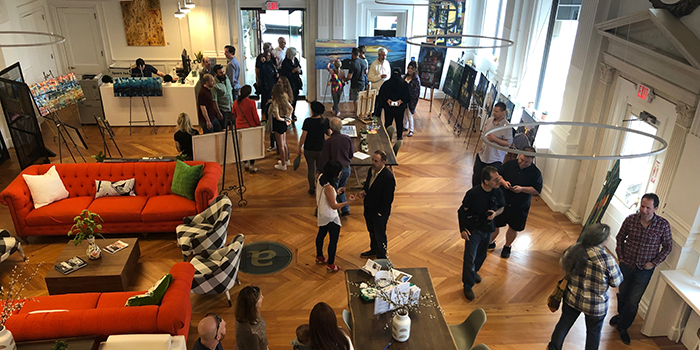 "I had a wonderful time displaying at align.Space," said Hannafin. "It's such a spirited and inspiring place with so many positive people."
Many visitors had never stepped foot in align.Space before, so after perusing the art several decided to take a tour of the co-working floors. In fact, some had never heard of the concept of co-working, which simply refers to people from different companies sharing a physical location, amenities and a sense of community.
The white board walls of our vault were used for the guests to become artists of their own. Sadly it got erased before any photos could be taken (at least that's the story we're telling to protect the priceless doodling of those aspiring artists who may have overindulged in the complimentary wine)!
The align.Space team raffled off two Diamond Club tickets to a Phillies game which were won by Hillary B., not to be confused with our fantastic Community Manager Hillary T.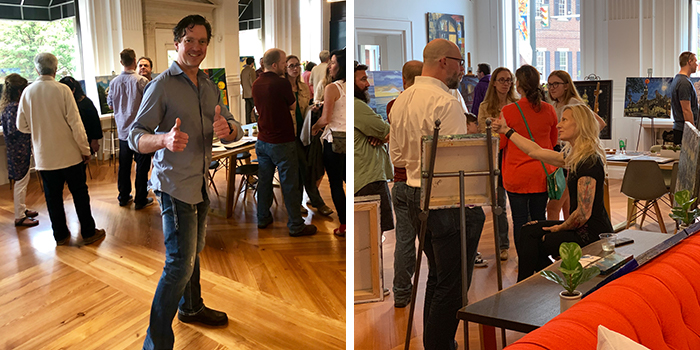 The night was fantastic for artists and art enthusiasts alike, and the fact that the weather held out for the rain-or-shine affair was a bonus. We're already excited for the Autumn Gallery Walk on October 4th!