align.Space has a variety of places to set up and get to work. Everyone has their preferences, but whether you want somewhere cozy or structured, we have a spot for you. Walking through the space, you'd be surprised where everyone ends up. We asked some of our team about their favorite spots, take a look at some of their responses:
Hillary Todd, Community Manager: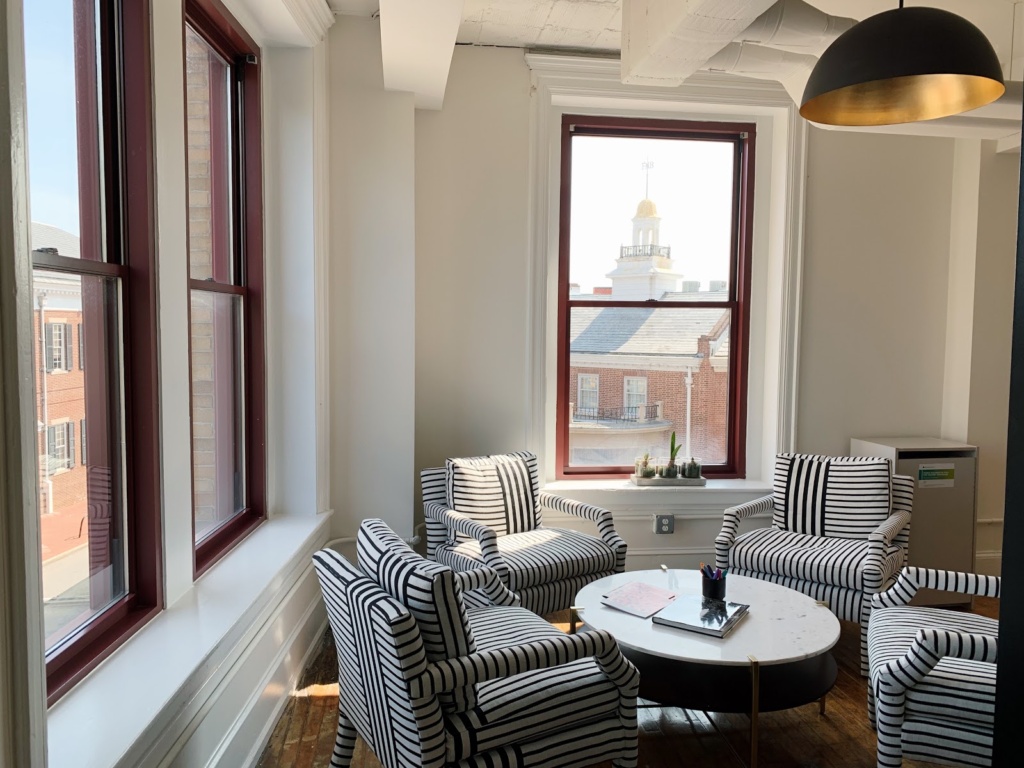 "My favorite spot is on the second floor where the 4 soft chairs are. The seats are very comfortable and I love the view of West Chester from the big windows."
Being in the heart of Downtown West Chester has its perks, and one of them is the sheer beauty of the town. Throughout the second and third floors are alcoves designed so you can enjoy the view.
However, the spot Hillary adores is right on the corner of the Market and High Street intersection, overlooking the historic courthouse and the busyness of the town. With an abundance of natural lighting, a gorgeous view, and comfortable seating, this is a great spot to write, check emails, and maybe even take some headshots.
Bill Handy, Community Manager: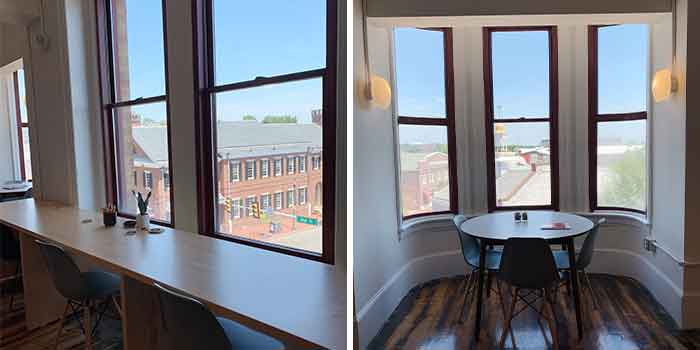 "My favorite spot is the third floor window sills, it's semi private and also has a great view of downtown."
In addition to our main floor and mezzanine, on both the second and third floors are spots perfect for coworking, but on the more traditional side. With desk style seating and round tables, along with quietness and bright, natural light, this part of our space is full of productivity.
Geoff Peel, Web & Digital Marketing Specialist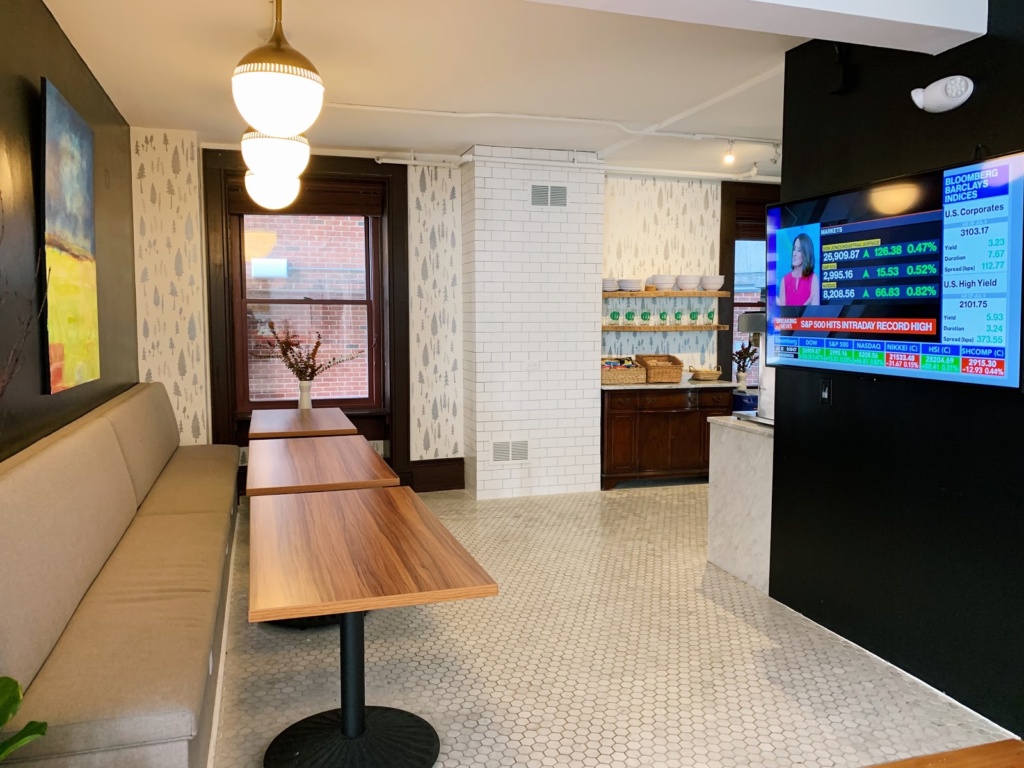 "Even though I have an office, I love sitting in the communal areas! I have three go-to locations depending on what I'm working on, but my favorite spot is the booth in the kitchen. It's active, bright, and close to coffee, water, and snacks. Plus, the Vault's whiteboard is right around the corner and I can glance up at the Bloomberg ticker every once in a while. Also, it's surprisingly comfortable."
This was no shocker, Geoff can always be found zoned into his computer in the kitchen booth. Arguably one of the best spots, with easy access to food, beverages- and first dibs on leftovers from conference room meetings. Even the kitchen has its own distinct energy, maybe it's the aesthetically pleasing alignment of our branded glassware, or the aroma of the freshly brewed coffee.
Pat Taggart, Filmmaker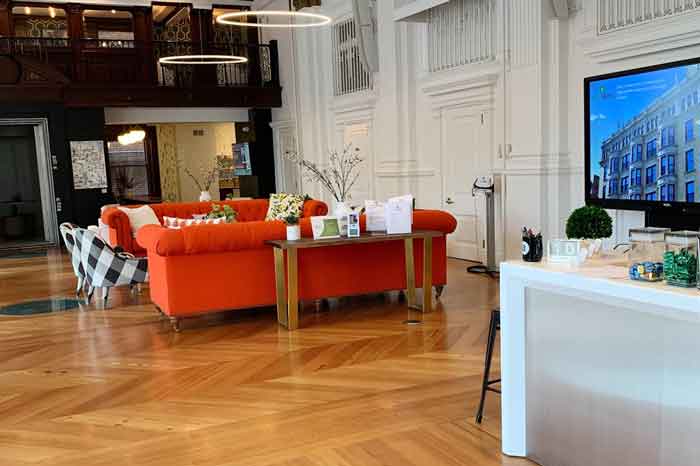 "I love the orange couches. Sitting in the center of 1908 with the music going and seeing people come and go just feels good."
A common response, our cushy couches and main communal room is a go-to for our members.
Instantly upon walking into 1908, a relaxed, yet inspiring energy washes over you. The music is soft, the lighting is bright, and the productivity is uplifting.
Kevin O'Connor, Vice President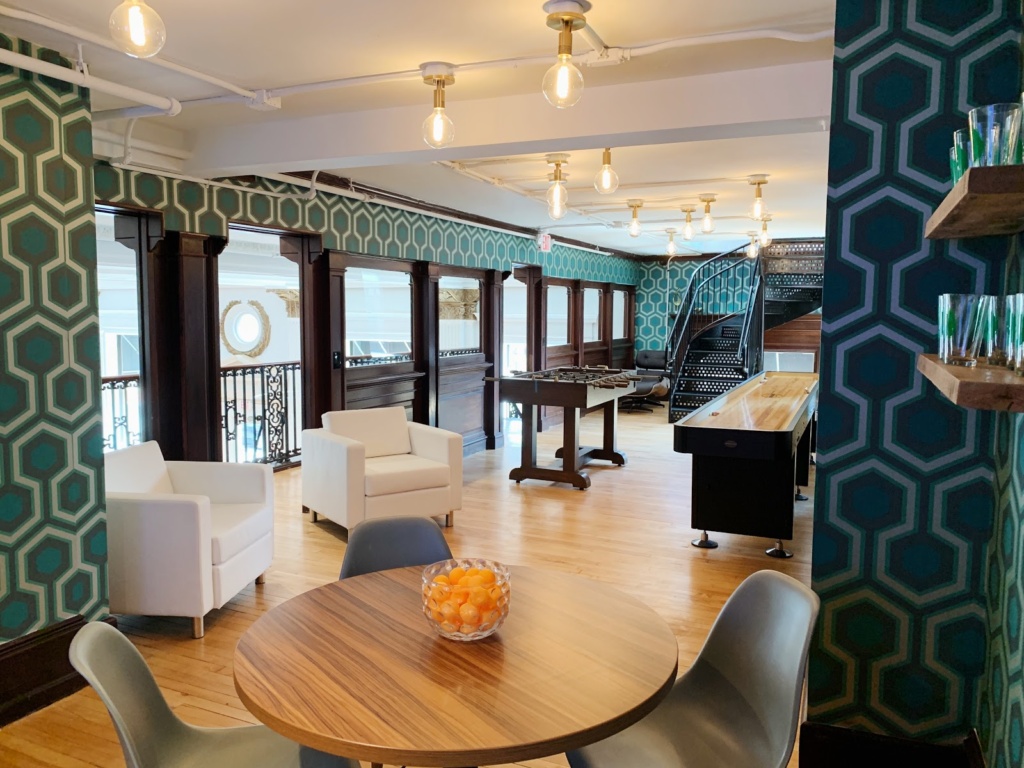 "Mezzanine, behind the stairs in the nice sofa chair. It's quiet and a great place to read or take a call with a coffee or other beverage."
Our Mezzanine has the potential to be whatever you want it to be.
Want to be alone? Sit on the sofa chair (Kevin's favorite), tucked behind the spiral staircase, and clear your head- maybe even check out one of our books on the book shelf.
Need a midday break? Grab a coworker and play some foosball or shuffleboard.
Trying to close a deal with a client? Seal the deal over a glass of beer on tap at the round table. The Mezzanine has unlimited flexibility.
Chad Williams, Managing Director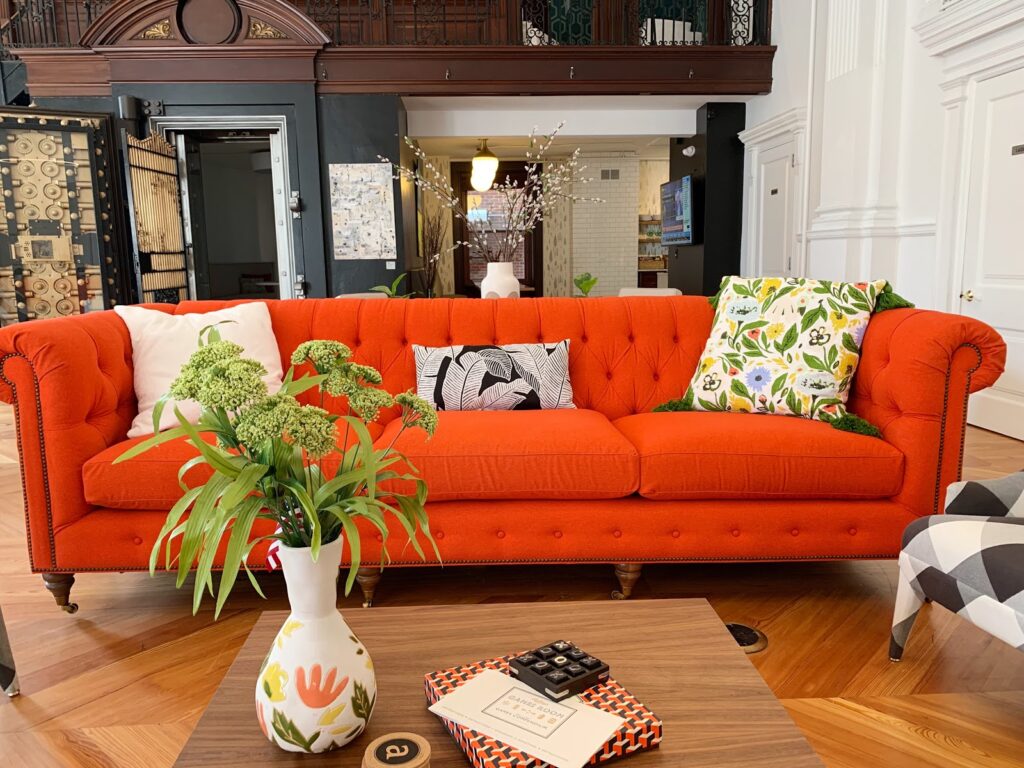 "The couches in 1908."
Plain and simple.
Our couches never fail to impress. Large, vibrant, and extremely comfortable- it's a tempting spot to take a midday nap.
More commonly, you can find our members with their three o'clock cup of coffee here.
John Ratliff, Managing Director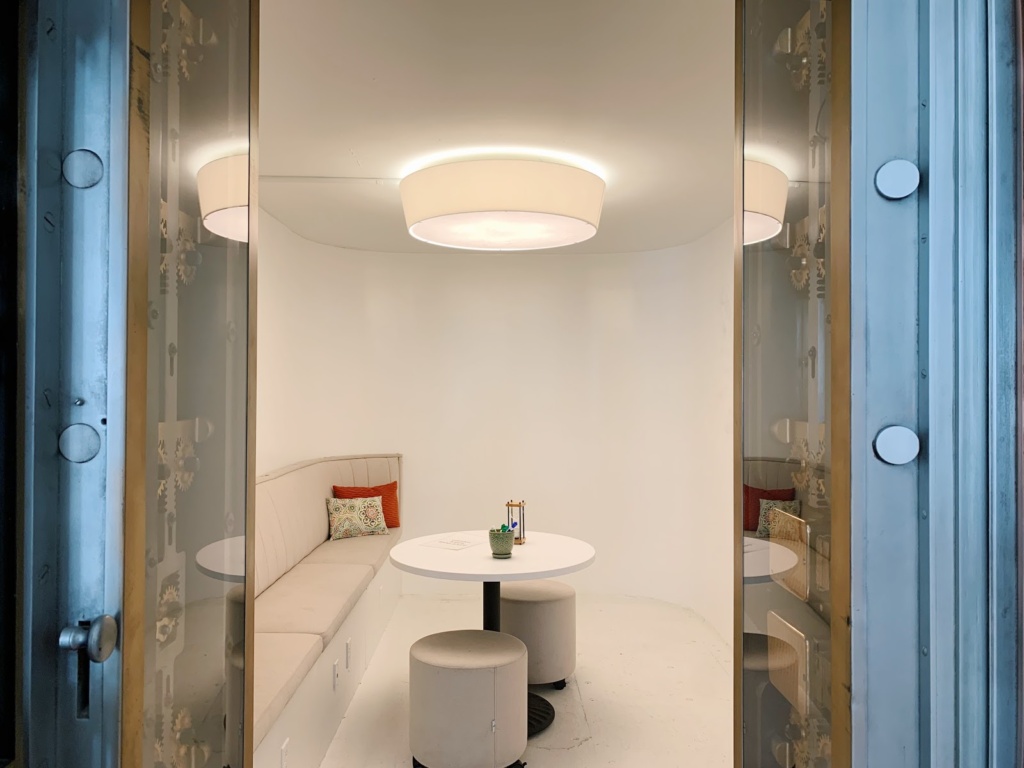 "Whiteboard vault room for me... all that open space is unlimited potential."
Our vault is the ultimate spot for a brainstorm session. With a 360 degree whiteboard, this is the place to go when you hit a writer's block- besides, the vault used to be full of money, that should give you some inspiration.
Even though most of our team has their own office, they all enjoy moving around the space- depending on what they are working on.
Our members (even if they have a private office) are all welcome to work in the communal spaces, and they all seem to really enjoy it! Join our community and discover your ideal spot!